REIKI 1
Full Price: $210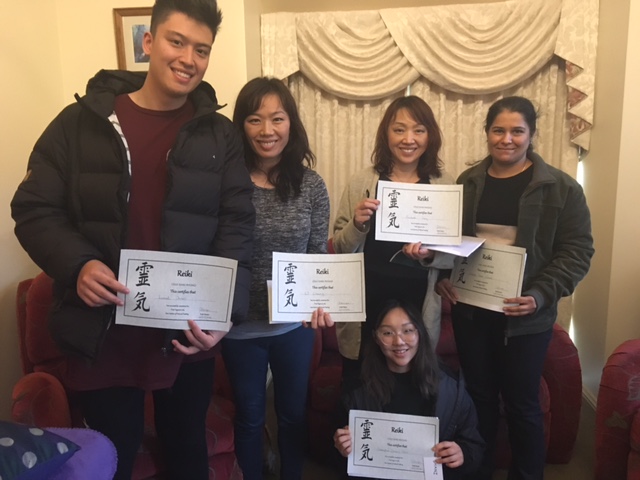 Hi there ! Great to see you checking out Reiki 1.
What is Reiki?
Reiki is a beautiful hands on healing modality where Universal Life Energy flows through the hands of the giver, to the recipient. Reiki can help the receiver on the physical, mental emotional and spiritual aspects of themselves.  Classes are small for individual attention.
 I have been a Reiki Master since 1997 and having been teaching and attuning people to the traditional Reiki system in my classes ever since. If your heart calls you to learn Reiki, I hope to meet you in one of my classes.
Be sure to subscribe so you will be contacted when classes are offered. For your consideration please read the information on the upcoming class. Blessings.
---
REIKI 1
USUI SYSTEM FOR NATURAL HEALING
I invite you to learn the beautiful healing energy of Reiki.
The healing art of Reiki is a form of ancient energy healing which was re-discovered by Dr. Mikao Usui in the 1800's.
The desire for self -healing and healing others attracts people to this gentle and loving, non-invasive, hands on healing modality. With open heart we learn how to channel this Universal Life Force energy.
Hectic life styles and emotional stress create imbalance in our energy field, which leaves us subject to illness. Reiki re-aligns the energy flow to aid in our healing process and helps us feel more centered and at peace.
Four attunements are given in Reiki 1, and topics covered in class are:-
What is Reiki
Reiki Ideals and their importance
Reiki hand positions
Self-healing
Giving and receiving a full Reiki Treatment
Information on the Human Energy Field
Introduction to the Chakra System
History and linage          
Please contact me on my by email on rose@rosefarrugia.com or by phone on 0407 345 879
Member ARC, AHHCA
Details
Date: Saturday 3rd March 2018
Time: 9.30am – 4.30pm
Contact name: Rose Farrugia
Contact Number: 0407 345 879
Full Cost: $210 to be paid in full by the 27th February 2018. A deposit of $100 is required on booking.
Payment Options: Bank Transfer, Credit Card and Cash. Contact me for details please.
Location
Werribee South
VIC 303
+ Google Map